When we go to have dinner at high-end restaurant, we found their steak is in much better taste than we cooked at home, why? The secret is their steak is dry-aged beef.
All people who has dry aged beef feel it has a richer beefier flavor, more buttery texture, and more tender, it is also with a slightly mineral scent.
Why does meat stay in a humidity and temperature controlled room for days can improve so much?
The most reasons are below points:
Firstly, the naturally-present enzymes in the meat break down some collagen, which can hold muscle fibers together and cause steaks to toughen while cooking. With collagen out of the way, the end result is much more tender.
Secondly, beef loses about 15% of its total weight during the aging process due to water evaporation, so the flavor will be much more concentrated and intense. The longer the beef is allowed to dry-age, the more water it loses and the more intense the flavor will be.
Sicao dry aging refrigerator can keep the meat drying since the temperature control is between 1°C - 22°C(normally people settle at 2°C), humidity control is between 50%-85%(normally people settle at 75%), and the UV light can hold the whole cabinet. In such condition, the meat drying is very good as per below photo.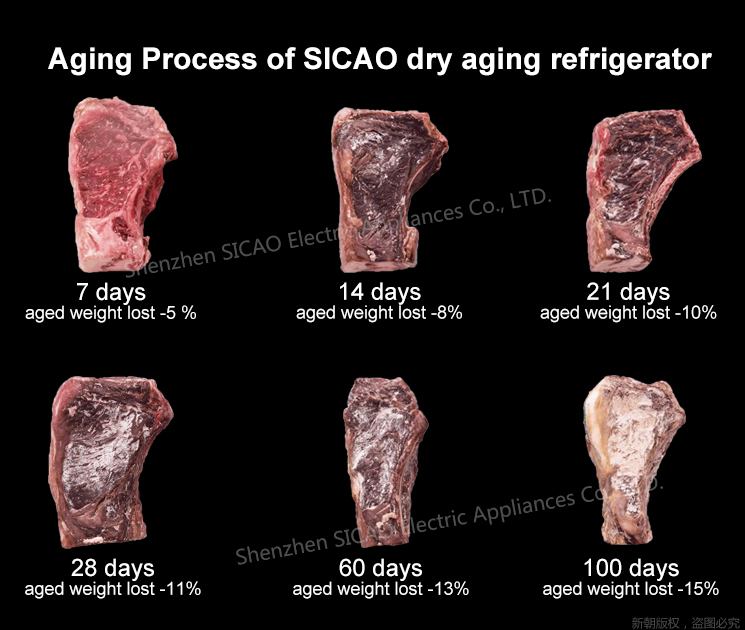 We have 2 sizes of dry aging refrigerator, one is 380L at 595*685*1820mm which can load 120-130KGS meat for commercial use, another one is 595*685*820mm which can load 30KGS meat for home use.
Now order to us, you can have the same enjoy at home like the restaurant.