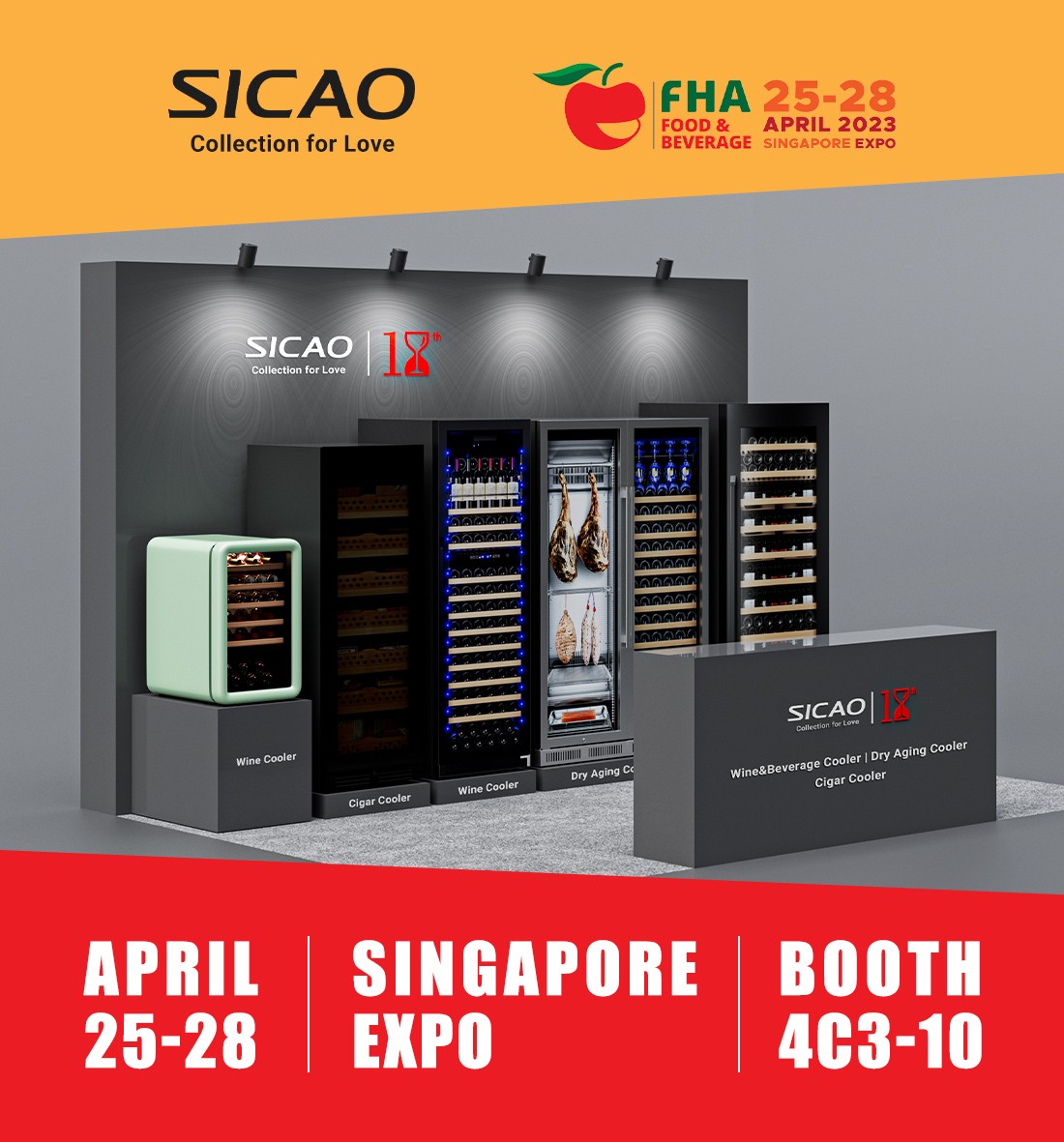 SICAO has been keeping the leading edge in dry aging, wine storage and cigar storage technology, and has become the industry benchmark. Today announced that it will present at Food & Beverage 2023 in Singapore on 25-28th April. Our booth number 4 Hall C3-10.
From "Made in China" to "Wisdom made in china".
SICAO's products have crossed the seas and oceans and entered the homes of more than 1 million customers worldwide, becoming an indispensable part of their daily lives and making life more attractive.
Over the years, our dry aging refrigerator, wine cabinets and cigar cabinets have been in the top market share in China and have achieved excellent results in the international market, exporting to more than 70 countries and regions.
SICAO Dry Aging Refrigerator
1.SICAO Smart Aging technology, easy to dry aging a variety of ingredients
2.Our biggest advantage is our unique technology which means you don't need to add water manually.
3.Our fridges equip with Embraco compressors provide cooling stability and low noise.
SICAO Wine cooler
1. SICAO's unique Stalbe air-cooled frost-free system adopts the American Parker fin evaporator to deliver cold air to every corner of the wine cabinet in a 360-degree forced circulation.
2. 2 ~ 22 ℃ wide range of temperature control, multi-temperature fine storage, easy todeal with a variety of wine, whiskey, soft drinks, coffee, tea, health care products.
3.Most of the models are designed with front air outlet window, which is suitable to be embedded in the cabinet, so you don't need to worry about the heat dissipation problem and help you use the home space more reasonably and keep it neat and beautiful.
SICAO Cigar Cabinet
1.Cigars must be maintained in a suitable environment in order to maintain the original flavor and gradually mature until they reach their peak state.
2.SICAO cigar lockers replicate the natural climate of Cuba with Smarttechnology, which precisely balances humidity and temperature, giving cigars a warm and delicate nourishment and a unique flavor charm.
SICAO Customiziation Service
1.In 2008, SICAO launched its custom wine cabinets, wine cellars, cigar cabinets and cigar cellars service, creating a brand new industry in China.
2.Over the past decade, we have designed and built more than 3,000 custom projects, mainly in China's major core cities,with an increasing number of customers from the United States, Australia, Southeast Asia and other places.
About FHA-Food & Beverage 2023 in Singapore
Evolved from the highly successful Food&Hotel Asia (FHA), FHA-Food & Beverage is ASEAN's most international food & drinks trade event that brings together the global food and hospitality community.
Would you be interested in attending our booth? Contact us for free tickets and member - level dry aging steak on site .
Address: 4Hall,4C3-10,1 Expo Dr, Singapore 486150
Date: 25-28th April,2023
Contact person : Flora Chen
Whatsapp:+86 188 9976 6905