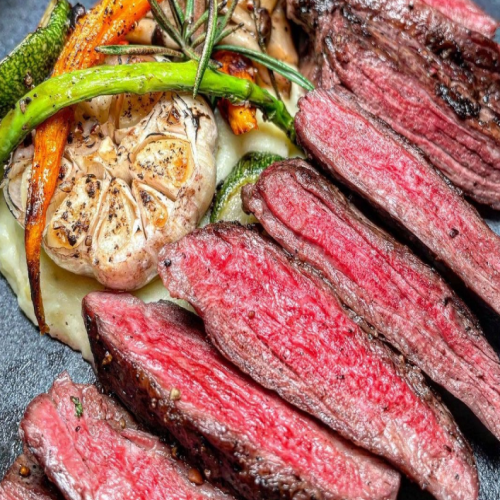 Dry Age can taste the flow of time
In the recent meat market, the most popular and expensive product is the Dry Age Steak, which is featured in high-end restaurants and steakhouses, contrasting the Dry Age pork, chicken, and fish on the shelves in cheap supermarkets.
Have you ever seen the following scenes: Several large pieces of beef are placed in transparent 'Dry Age Cabinets,' with small labels beside each piece detailing the type, the Dry Age time, the initial weight, and other information This is Dry Age meat which puts beef in the 0 to 4 ℃ constant temperature with 80% humidity, clean and the air circulation environment, allowing blood flow and drying for surface hardening, slowly enzyming the inner beef's natural decomposition. Experts point out that ripe needs strict control of temperature and humidity conditions, which may inhibit the growth of harmful microorganisms, so it's not recommended to make Dry Age meat at home.
Dry Age is the process of changing food molecules
Dry Age is the process of changing food molecules by controlling time and temperature and humidity. Dry Age may give the impression that course meat, but it is not the actual implication. After slaughter, myofibrillar proteins and connective tissue are degraded by proteolytic enzymes originally present in the meat, weakening the muscle structure and resulting in softer meat.

With Expensive Price
Dry Age, in which meat is kept in a tightly controlled and low-temperature environment to allow enzymes to grow between three and four weeks. Dry Age meat is mostly high-quality meat with more fat and even distribution. However, during the cooking process, the surface of the meat will form a hard crust, which must be trimmed before cooking. It's wear and tear, which is one of the reasons dry-aged meat is so expensive. After long and complicated cooking, steaks already have excellent flavor and are extremely easy for making dishes. Cut a piece of finger-thick beef and put it into the frying pan for 3 minutes to reach medium rare. To let diners fully taste the original flavor, some chefs will only sprinkle a little coarse sea salt on the steak and serve it. Not only the steak, but the trend has also broadcast to the Dry Age Lamb rack.